30x165mm HE-T-SR
High-Explosive Tracer Short-Range Round
for 2A42, 2A72 and 2A38 Automatic Guns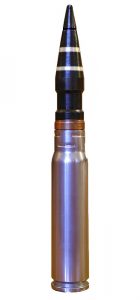 The 30 x 165 mm Round with High Explosive Tracer- Short Range Projectile is intended for drill firing on short firing ranges.
The projectile is fitted with distance-armed fuze A-670M-SR that functions either on impact or ensures projectile self-destruction within 3,5 kilometers from muzzle.
The round is safe for use on firing ranges with length not less than 5 km from muzzle, and does not endanger the objects behind this distance.
The 30 mm automatic guns 2A42, 2A72 and modifications are mounted on the following carriers:
• Infantry Fighting Vehicles BMP-2, BMP-3, BMD-2, BMD-3, BTR-80A, BTR-90 and their modifications
• Reconnaissance Vehicle "RIS"
• Attack Helicopters Ka-50, Ka-52, Mi-28 and modifications
The ammunition is safe in transport, storage and handling and ensures the reliable performance of the gun systems in all weather conditions.
| BASIC CHARACTERISTICS: | – – – |
| --- | --- |
| Caliber: | 30x165mm |
| Fuze Arming Distance: | 20 to 100 meters |
| Self-Destruction Time: | 4 to 8 seconds |
| Operational Temperature Range: | -50 to +50°C |
| Shelf Life: | 15 years |
| ELEMENTS OF ROUND: | – – –  |
| --- | --- |
| Projectile: | High-Explosive Tracer Short-Range |
| Fuze: | A-670M-SR |
| Explosive Filling: | A-IX-2 (RDX) |
| Propellant: | 6/7 P-5BPfl |
| Cartridge Case: | Steel |
| Primer: | KV-30, KV-3-1 |
| BALLISTIC DATA: | – – – |
| --- | --- |
| Muzzle Velocity: | 960-980 m/s |
| Probable Deviation: | 5 m/s |
| Average Pressure (max): | 2925 kgf/cm2 |
| TECHNICAL DATA: | – – –  |
| --- | --- |
| Weight of Round: | 826 grams |
| Length of Round: | 292 mm |
| Weight of Projectile: | 385 grams |
| Propellant Charge Mass:  | 122 grams |
| Burning Time of Tracer: | Not less than 10 sec. |
| PACKING: | – – –  |
| --- | --- |
| Number of Rounds in one Case: | 54 rounds in three air-tight sealed boxes in a wooden case |
| Case Dimensions: | 860x380x220 mm. |
| Case Gross Weight: | 61 kg. |
| Case Volume:  | 0.072 cubic meters |
| OPTIONAL PACKING: | – – –  |
| --- | --- |
| Number of Rounds in one Case: | 25 linked rounds in one air-tight sealed box in a wooden case |
| Case Dimensions: | 420x245x340 mm. |
| Case Gross Weight: | 37 kg. |
| Case Volume:  | 0.035 cubic meters |

COMPATIBLE Automatic Guns: 2A42, 2A38 and 2A72 mounted on following vehicles:
BMP-2
Infantry Fighting Vehicle

BMP-3
Infantry Fighting Vehicle

BMD-2
Infantry Fighting Vehicle

BMD-3
Infantry Fighting Vehicle

BTR-80A
Armoured Personal Carrier

BTR-90
Armoured Personal Carrier