40x46mm AR-476 ADHE-SD
Anti-Diver High-Explosive Grenade with Self-Destruct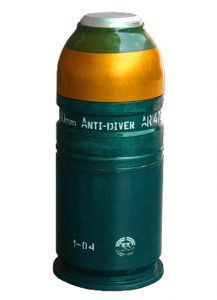 The 40x46mm Anti–diver HE Grenade provides effective action against enemy divers in water at depth of up to 25m and within projected range of up to 400m.
The grenade is suitable for preventive bombardment of endangered water areas and also for  precise bombardment of spotted divers.
The grenade is fitted with distance-armed, self-destruct fuze.
Self-Destruct grenades have a huge advantage as they will explode within 14-19 seconds even if they have not exploded by the main fuze.
In situations where the grenade hits an object at a certain angle and does not explode on impact, the fuze will detonate the grenade within the certain timeframe anyway. This is very important as if an active grenade remains on the field, it can injure friendly soldiers or civilians.
The ammunition is safe in storage, handling and operation and ensures the reliable performance of the grenade launchers in all weather conditions.
| BASIC CHARACTERISTICS: | – – – |
| --- | --- |
| Caliber: | 40x46mm |
| Maximum Effective Range: | 400 meters |
| Radius of Defeat: | 10 to 40 meters |
| Operational Temperature Range: | -50 to +50°C |
| Length of Grenade (max): | 122.0 mm |
| Weight of Grenade: | 0.28 kg |
| Shelf Life: | 10 years |
| Delayed Action: | 3 s. after impact (+/- 1 s.) |
| ELEMENTS OF GRENADE: | – – –  |
| --- | --- |
| Projectile: | High Explosive |
| Explosive Filling: | A-IX-1 (RDX) |
| Cartridge Case: | Aluminum |
| Propellant: | NBPl-10-10 |
| Primer: | KVM-3 |
| BALLISTIC DATA: | – – – |
| --- | --- |
| Muzzle Velocity: | 76 m/s |
| Probable Deviation: | 1.5 m/s |
| Average Pressure (max): | 250 kgf/cm2 |
| FUZE: | VMG-K |
| --- | --- |
| Fuze Type: | A476 М1, Delayed with Self-Destruct |
| Fuze Arming Distance: | 10 to 40 m |
| Fuze Self-destruction Time: | 30 to 40 sec |
| PACKING: | – – – |
| --- | --- |
| Number of Rounds in one Case: | 120 in three air-tight sealed metal boxes |
| Case Material: | Wood |
| Case Dimensions: | 860x380x220mm |
| Case Gross Weight: | 47 kg. |
| Case Volume: | 0.072m3 |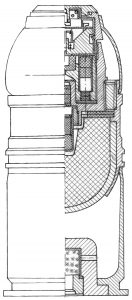 COMPATIBLE WEAPON SYSTEMS
Arcus 40 Under-Barrel
for AK-47 and AK-74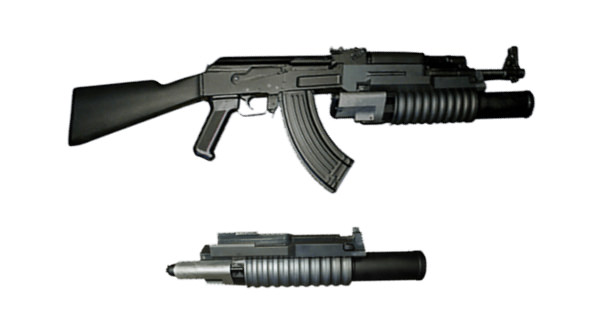 M203 Under-Barrel Grenade Launcher for M16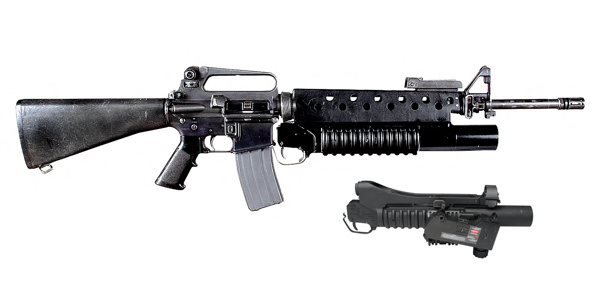 M203 Single Shot
Grenade Launcher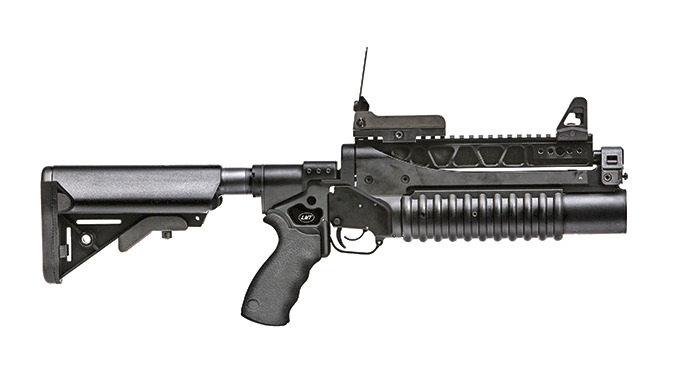 M79 Single Shot
Grenade Launcher

HK69 A1 Single Shot
Grenade Launcher