40mm OG-7V HE-FRAG AR-7V
High-Explosive Fragmentation Grenade /Anti-Personnel/
for RPG-7 Anti-Tank Grenade Launcher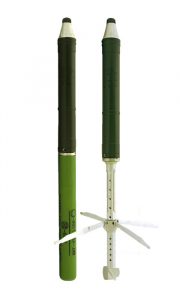 The 40 mm Round AR-7V HE-FRAG grenades provide High-Explosive and Fragmentation effects against enemy troops in open terrain or in light shelters at distance up to 1000 meters.
HE-FRAG grenade AR-7V is analogue to OG-7V Grenade and is equipped with Fuze O4M with Muzzle Safety Distance of 6 meters and Arming Distance of 25 meters.
The grenade is compatible with RPG-7 and RPG-7V grenade launchers and their modifications.
The ammunition is safe in transport, storage and handling and ensures the reliable performance of the gun systems in all weather conditions.
| BASIC CHARACTERISTICS: | – – – |
| --- | --- |
| Caliber: | 40mm |
| Fuze Arming Distance: | 25 meters |
| Direct Firing Range: | 170 meters |
| Maximum Range: | 1000 meters |
| Operational Temperature Range: | -40 to +50°C |
| ELEMENTS OF ROUND: | – – –  |
| --- | --- |
| Projectile: | High-Explosive Fragmentation |
| Fuze: | O-4M PD |
| Fuze Muzzle Safety Distance:  | 6 meters |
| Fuze Arming Distance: | 25 meters |
| Length of Round: | 600 mm |
| BALLISTIC DATA: | – – – |
| --- | --- |
| Muzzle Velocity: | 152 m/s |
| Effective Defeat Radius: | 14 meters |
| Average Pressure (max): | 3200 kgf/cm2 |
| PACKING: | – – – |
| --- | --- |
| Number of rounds in one case: | 18 rounds packed in a single wooden case |
| Case Dimensions: | 833x454x262 mm |
| Case Gross Weight: | 50 kg |
| Case Volume: | 0.098 cubic meters |
COMPATIBLE Grenade Launcher: RPG-7 Anti-Tank Grenade Launcher
:
RPG-7
Anti-Tank Grenade Launcher