23x152mm HEI-T Inert
High-Explosive Incendiary Tracer Inert Round

The 23 mm Round with High Explosive Incendiary Tracer Inert Projectile is intended for training of crews and comparative tests.
The ammunition is designed for use with guns 2A14, 2A14M, 2A7 and 2A7M of 23 mm air-defence gun mounts and their modifications on ZU-23-2 and ZSU 23-4 Shilka.
The ammunition is safe in storage, handling and operation and ensures the reliable performance of the grenade launchers in all weather conditions.
| BASIC CHARACTERISTICS: | – – – |
| --- | --- |
| Caliber: | 23x152mm |
| Operational Temperature Range: | -50 to +50°C |
| Shelf Life: | 15 years |
| ELEMENTS OF ROUND: | – – –  |
| --- | --- |
| Projectile: | High-Explosive Incendiary Tracer |
| Fuze: | Inert |
| Inert Filling: | Sulfur mixture |
| Propellant: | 5/7 Cfl |
| Cartridge Case: | Steel |
| Primer: | KV-3 |
| BALLISTIC DATA: | – – – |
| --- | --- |
| Muzzle Velocity: | 960-980 m/s |
| Average Pressure (max): | 2925 kgf/cm2 |
| Maximum Range: | 2500 m |
| Maximum Altitude: | 1500 m |
| TECHNICAL DATA: | – – –  |
| --- | --- |
| Weight of Round: | 450 grams |
| Length of Round: | 235 mm |
| Weight of Projectile: | 188.5 grams |
| Length of Projectile:  | 108.2 mm |
| Weight of Cartridge Case: | 172 grams |
| Length of Cartridge Case: | 151.5 mm |
| Propellant Charge Mass: | 77 grams |
| PACKING: | – – –  |
| --- | --- |
| Number of Rounds in one Case: | 84 rounds in three air-tight sealed boxes in a wooden case |
| Case Dimensions: | 875x378x206 mm. |
| Case Gross Weight: | 55 kg. |
| Case Volume:  | 0.068 cubic meters |

COMPATIBLE WEAPON SYSTEMS
ZU-23-2
Anti-Aircraft Gun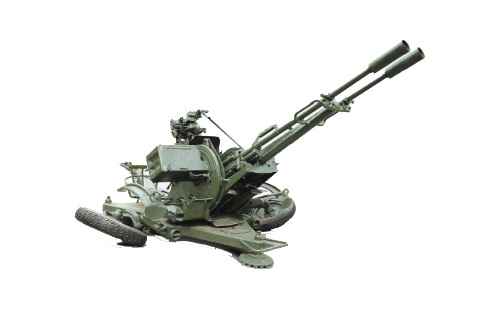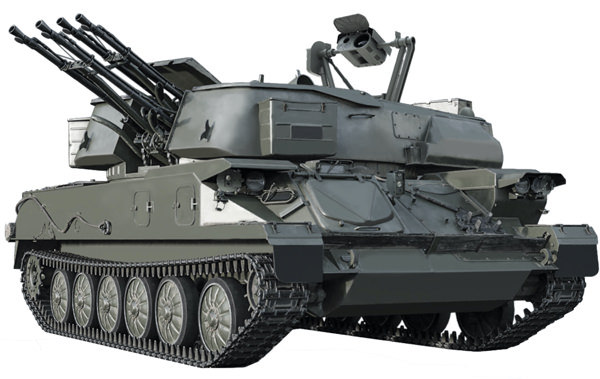 BMP-23
Infantry Fighting Vehicle