Fuze V5-K
for 57mm Unguided Rockets S-5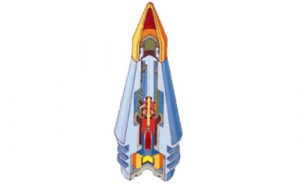 V-5K is a mechanical, nose, point-detonating fuze with super quick action. The fuze features distant arming.
The fuze V-5K completes 57 mm High Explosive and Hollow Charge unguided rockets S-5K, S-5KO, S-5KOV and S-5MO, launched from UB-16 and UB-32 aircraft rocket pods.
The fuze is safe in storage, handling and operation and ensures the safe and reliable function of the ammunition in all weather conditions.
DISTANT ARMING
The fuze is armed after burning of propellant by the set back forces.
FUZE ACTION
Upon impact the fuze provides super quick action.
The fuze functions under impact and inertia forces. The inertia device ensures action not only upon impact on both solid and marshy ground.
BASIC CHARACTERISTICS:

– – –

Action:

Point-Detonating or Delayed Action

Arming:

Distant by set-back and rotational forces

Range of Arming:

After burning of the rocket propellant

Operational Temperature Range for firing:

-60 to +50°C

Operational Temperature Range for storing:

-60 to +50°C

Shelf Life:

20 years
| TECHNICAL DATA: | – – –  |
| --- | --- |
| Length of Fuze (max): | 119 mm |
| Intrusion Length (max): | 25.5 mm |
| External Diameter (max): | 40 mm |
| Weight of Fuze:  | 168 grams |
| Type of Booster: | Tetranitrol |
| Weight of Booster: | 0.8  gramms |
| Thread Size: | Spec. 36.18 x 10tpi |
| PACKING: | – – –  |
| --- | --- |
| Number of Fuzes in one Case: | 64 fuzes in 4 metal air-tight sealed box in a wooden case |
| Case Dimensions: | 500x522x170 mm. |
| Case Gross Weight: | 40 kg. |
| Case Volume:  | 0.045 cubic meters |