Fuze MRV-U
for 122mm HE Grad Rocket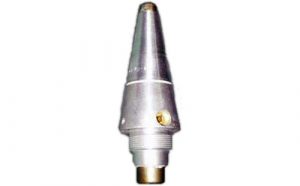 MRV-U is a mechanical, nose, point-detonating fuze with selectable super-quick or delayed action. The fuze features distant arming.
The fuze MRV-U completes 122 mm High Explosive artillery rocket M-210F, launched from BM-21 "GRAD" Multiple Launch Rocket System.
The fuze is safe in storage, handling and operation and ensures the safe and reliable function of the ammunition in all weather conditions.
OPERATION MODES
The fuze has three operation modes, which are selectable, by built-in setter and wrench:
position "O" for SQ action
position "M" for short -delayed action
position "Б" for long -delayed action
FUZE SAFETY
Before firing the Safety and Arm device prevents the detonator from positioning into the fire train. Even in case of unintentional ignition of the primer, no transfer of the firing pulse to the fire train can occur.
DISTANT ARMING
The fuze is armed after burning of propellant by the set back forces.
FUZE ACTION
The fuze functions under the impact and inertia forces.
The inertia device ensures ignition not only upon impact on solid ground, but also on snow or marshy ground.
Upon impact the fuze provides SQ, long-delayed or short-delayed actions.
The delayed actions are provided by two different pyrotechnic elements that ensure 0.001 to 0.005 s for short delay and 0.007 to 0.013 s for long delay.
| BASIC CHARACTERISTICS: | – – – |
| --- | --- |
| Action: | Point-Detonating, Super Quick or Delayed Action |
| Arming: | By set-back and rotational forces |
| Range of Arming: | After burning of rocket propellant |
| Time of Delay (short): | 0.001 to 0.005 seconds |
| Time of Delay (long): | 0.007 to 0.013 seconds |
| Operational Temperature Range for firing: | -40 to +50°C |
| Operational Temperature Range for storing: | -40 to +50°C |
| Shelf Life: | 15 years |
| TECHNICAL DATA: | – – –  |
| --- | --- |
| Length of Fuze (max): | 195.36 mm |
| Intrusion Length (max): | 54.71 mm |
| External Diameter (max): | 64 mm |
| Weight of Fuze:  | 755 grams |
| Type of Booster: | Tetryl |
| Weight of Booster: | 23.2  gramms |
| Thread Size: | Spec. 44.96 x 2tpi |
| PACKING: | – – –  |
| --- | --- |
| Number of Fuzes in one Case: | 16 fuzes in 4 metal air-tight sealed box in a wooden case |
| Case Dimensions: | 500x480x180 mm. |
| Case Gross Weight: | 19 kg. |
| Case Volume:  | 0.044 cubic meters |