Arcus 98DA Semi-Automatic Pistol
Caliber 9x19mm Parabellum (Luger)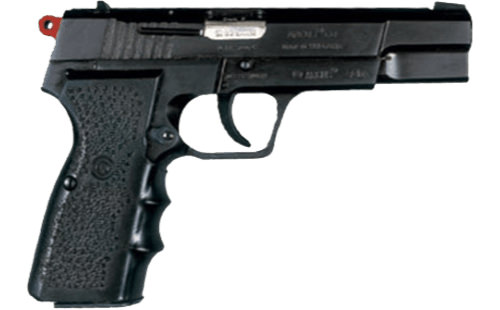 The ARCUS-98DA is a DA/SA semi-automatic pistol, designed to meet the exacting standards of the military and law-enforcement agencies. The pistol incorporates advanced ergonomic design and proven reliability under any conditions.
ARCUS-98DA features increased safety due to the combination of manual safety and automatic safety of the firing pin.
The pistol is adopted for service in the Bulgarian army and Police.
Slide and frame, made of forged steel milled to precise measurements using computerized CNC equipment. Barrel and muzzle are subjected to post production tensile strength testing to 4.500 lbs.
FEATURES
Double Action / Single Action

High capacity magazine

Exceptional ergonomic design

Three-dot Combat Style Sights

Advanced Safety Features

Available in blue or duo-tone finish

Plastic, rubberized ergonomic or classic walnut grips
| TECHNICAL DATA: | – – – |
| --- | --- |
| Caliber: | 9x19mm (9mm Parabellum) |
| Action: | Double Actionn / Single Action |
| Capacity: | 15 rounds (optional: 10 rounds) |
| Barrel Length: | 118.5 mm (4.55 inch) |
| Overall Length: | 203.0 mm (7.99 inch) |
| Height: | 139.0 mm (5.47 inch) |
| Weight: | 950 grams (33.5 oz) |
| Muzzle Velocity: | Not less than 340 m/s |
| Trigger Pull Range Double-Action: | Less thann 75N (16.87 lbs.) |
| Trigger Pull Range Single-Action: | Less than 30N (6.75 lbs.) |
| Finish: | Blue or Duo-tone |
| Grips: | Rubberised Ergonomic, Black plastic or Walnut |
| Safety: | Right-thumb Manual Safety, Half-cock safety, Magazine Disconnect |
| Sights: | Fixed Three-Dot Combat Style |
| COMPLETE SET: | – – – |
| --- | --- |
| Arcus Pistol: | 1 pc. |
| 2 Magazines: | 2 pcs. |
| Cleaning Rod: | 1 pc. |
| Gun Lock: | 1 pc. |
| PACKING: | VMG-K |
| --- | --- |
| Number of Pistols in Wooden Case: | 60 Pistols packed in individual cardboard boxes in a wooden case |
| Wooden Case Dimensions: | 700x480x600 mm |
| Wooden Case Volume: | 0.2 cubm. |
| Wooden Case Weight: | 96 kg. |