30x29mm VOG-17 TP-M
Target Practice Grenade

The 30mm Round IO-32 TP-M with Target Practice Projectile with smoke composition and live fuze is intended for drill firing with marking smoke effect.
Smoke effect is created upon impact with the target. The round has identical ballistic characteristics as IO-30 (VOG-17) and is perfect for training.
The ammunition is safe in storage, handling and operation and ensures the reliable performance of the grenade launchers in all weather conditions.
Operational Temperature Range:-50 to +50°C
| BASIC CHARACTERISTICS: | – – – |
| --- | --- |
| Caliber: | 30x29mm |
| Maximum Effective Range: | 1700 meters |
| Shelf Life: | 10 years |
| | |
| ELEMENTS OF GRENADE: | – – –  |
| --- | --- |
| Projectile: | Target Practice with smoke composition |
| Explosive Filling: | No explosive filling |
| Cartridge Case: | Steel |
| Propellant: | NBPl-14-10 |
| BALLISTIC DATA: | – – – |
| --- | --- |
| Muzzle Velocity: | 185 m/s |
| Probable Deviation: | 2.5 m/s |
| FUZE: | VMG-K |
| --- | --- |
| Fuze Type: | VMCH-M Point Detonating, Super Quick, Distance-Armed, Self-Destruct |
| Fuze Arming Distance: | 10 to 60 m |
| Fuze Self-destruction Time: | 28 to 36 sec |
| PACKING: | – – – |
| --- | --- |
| Number of Rounds in one Case: | 120 in three air-tight sealed metal boxes |
| Case Material: | Wood |
| Case Dimensions: | 860x380x220mm |
| Case Gross Weight: | 47 kg. |
| Case Volume: | 0.072m3 |


30x29mm VOG-17 GRENADE TYPES
COMPATIBLE WEAPON SYSTEMS
AGS-17 Automatic
Grenade Launcher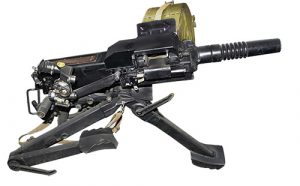 AGS-30 Automatic
Grenade Launcher